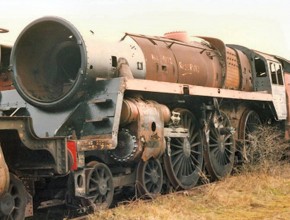 73156 was purchased by the Bolton Steam Locomotive Co. Ltd. on November 9th 1985 and transported to the workshops of the East Lancashire Railway at Bury the following year. Regular visits to Barry were made in order to prepare her for this event and upon arrival at Bury, work started immediately on stripping the loco. Much of the work comprised de-rusting, dismantling, cleaning and assessing the removed components for re-use or as patterns for new components not covered by available drawings. It is impossible to itemise every job done during the Bury years, especially the trials and tribulations along the way, but significant progress was made.
The locomotive was transferred from the ELR at Bury to the GCR at Loughborough in 2002 for the remainder of the restoration.
The BR1B tender from 73156 was sold off during the engine's time at Barry, so a new tender is being constructed from scratch. A new tender chassis has been completed and is now at Loughborough awaiting delivery of the new tender tank, which is currently at Bury and is almost complete.
All outstanding motion parts have been manufactured and fitted to the loco. Work on the cab sheeting, frames, wheel cleaning and painting, piping up and brake gear, as well as the machining of many components and boiler/firebox inspections summarises work carried out at Loughborough. The boiler and firebox overhaul, the last major task, is now being undertaken.
The full restoration of 73156 to working order is now at a very advanced stage.